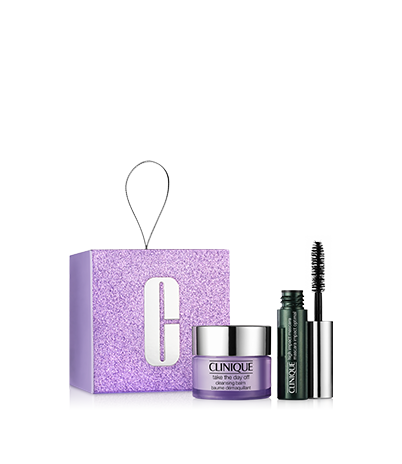 Beauty Bauble
What It Is
Our lushest, plushest mascara, plus a balm makeup remover that's like a spa treat. In a giftable ornament box.
A value of $16.00.

What It Does
High Impact™ Mascara kicks up the volume and length of each and every lash. Lightweight Take The Day Off™ Cleansing Balm transforms from a solid balm into a silky oil to quickly dissolve tenacious eye and face makeups, sunscreens. Cleans thoroughly, rinses off completely.

Set Includes


High Impact™ Mascara in Black, 0.14oz/3.5ml
Take The Day Off™ Cleansing Balm, 0.5oz/15ml

Get The Look
For wow lashes, wiggle the High Impact™ Mascara brush from roots to tips, then brush a little more on the outer fringe of lashes for a flirtier look. When you're ready to remove it, Take The Day Off™ Cleansing Balm melts it away.

Have a product or beauty question?
All
Very Dry to Dry
Dry Combination
Combination Oily
Oily
Consultants Recommend