"My style is pretty eclectic and influenced by the '70s and '80s. I'm a die-hard fan of Diana Ross. She's an icon of fashion and beauty," says Fatou N'diaye, founder of the popular fashion and beauty blog Black Beauty Bag. "I would have loved to live during the time of Motown, Soul Train and Studio 54," she adds. And she likes to change things up a lot. Her #ootd could be any kind of mix of modern must-haves and vintage finds. "My look varies depending on my mood, the books I'm reading, the music I'm listening to, my travels and discoveries. But the most important thing is to never feel like I'm wearing a disguise," says Fatou.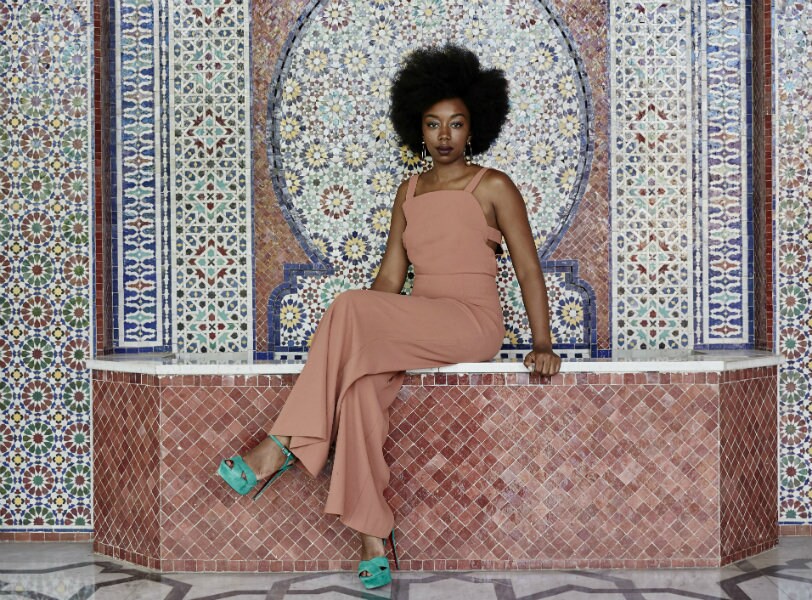 As one of Paris' most popular beauty bloggers, especially for women with dark skin tones, Fatou knows a thing or two (or thousand) about makeup. She told us her favorite trends right now are "dark lips, a nude complexion and voluminous eyebrows." The trickiest part of that lineup: creating a smooth, even skin tone with just the right amount of natural glow.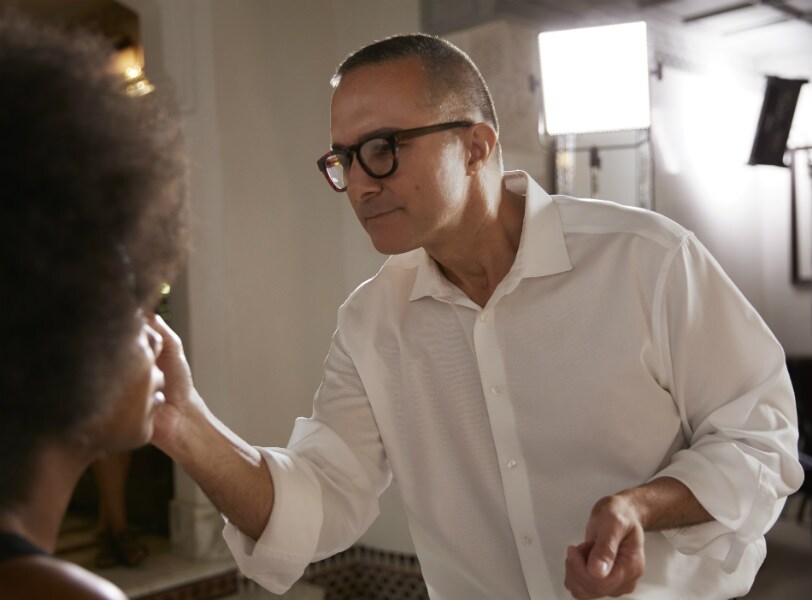 Fatou met up with celebrity makeup artist and Clinique Colour Pro Matin Maulawizada in Marrakech (talk about eclectic and inspirational destinations) to learn how to use foundation to create that perfect skin look—and of course, pair it up with her signature power lip.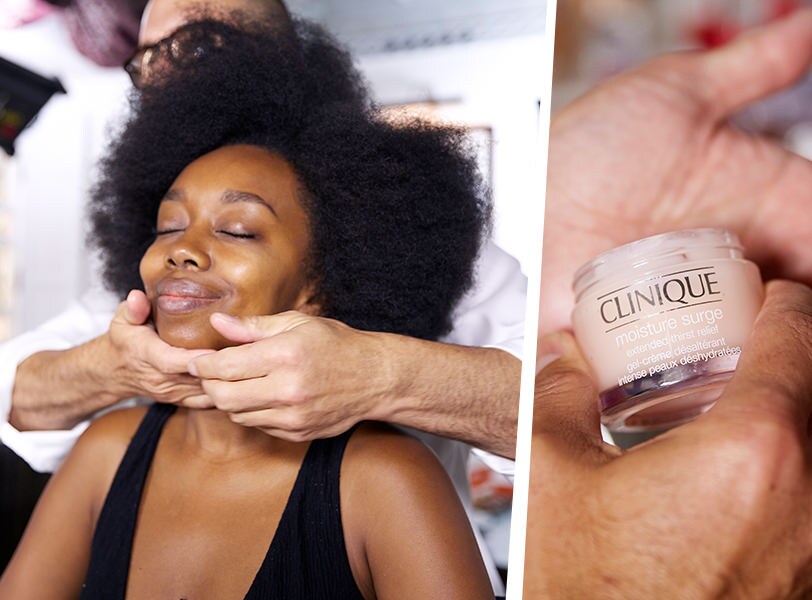 Always prep first with skin care.
"I always start by massaging a client's face with moisturizer to relax and warm up her skin. This really helps makeup sink in and blend easily. If your foundation just sits on top of your skin, then it won't look natural," explains Matin. Moisture Surge Extended Thirst Relief is one of his favorites. "It is light, but very hydrating. It's the ideal pre-foundation skin prep."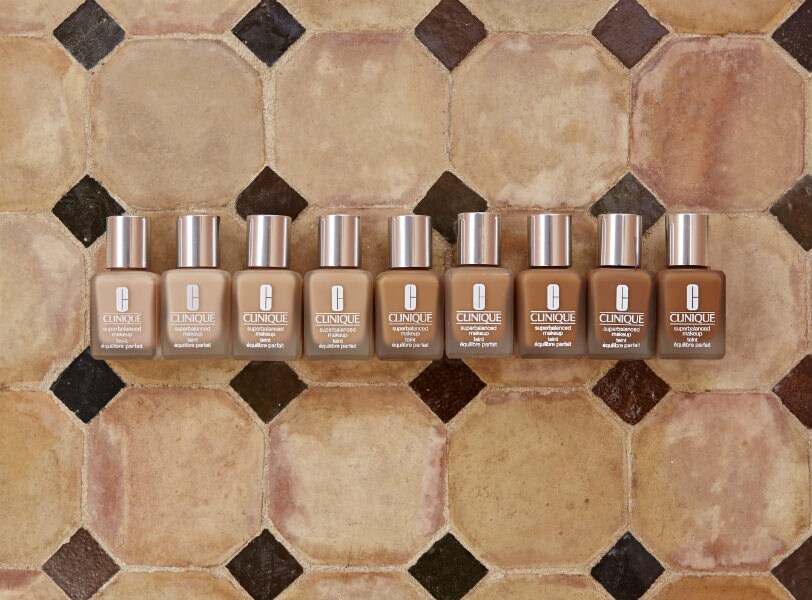 Use an intelligent foundation that enhances, not hides, your skin.
"Foundation isn't meant to look like a mask. It's really about using the right formula," says Matin, who used Superbalanced Makeup on Fatou. The formula has a "smart" technology that can control shine in oily areas and moisturize dry patches all at the same time, which is key for maintaining even coverage all day long. "It's also very lightweight and silky, but you can layer it where needed to build coverage and the matte finish is very natural-looking," says Matin.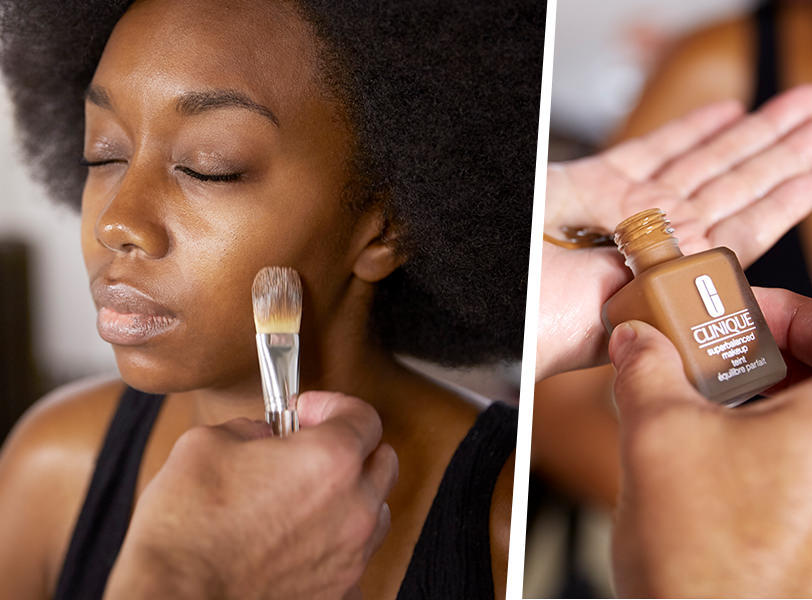 Choose the right shade of foundation.
"To find the perfect shade match, I first look at the big picture on a client. I look at all of the skin that is revealed, from chest to forehead, ears to neck and even shoulders and legs if they are showing," says Matin. This is especially important with dark skin tones that can have uneven pigmentation. "I then choose a foundation shade that matches the darkest areas of her skin and use that all over. This really makes her skin look rich, luxe and even all over," says Matin, who used Superbalanced Makeup in Clove, one of the new shades recently launched to expand the selection of Superbalanced Makeup for medium to dark skin tones.
Apply foundation with a wet sponge or brush.
"I always dampen a sponge or foundation brush to apply foundation because it imparts a sheer veil of color on the skin, which looks super natural," explains Matin.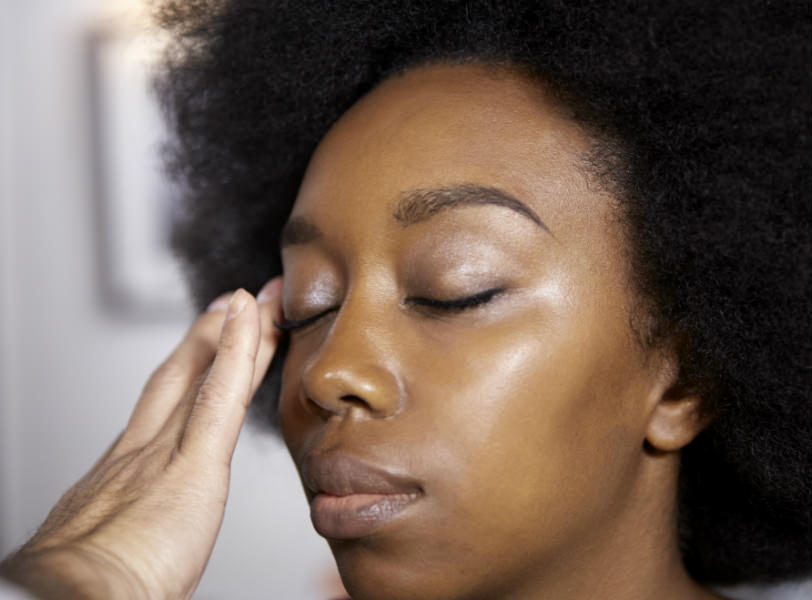 Boost that natural glow with highlighter.
Matin used his fingertips to tap Chubby Stick Sculpting Highlight across Fatou's brow bones. "This creates a subtle sheen that illuminates her entire face," says Matin.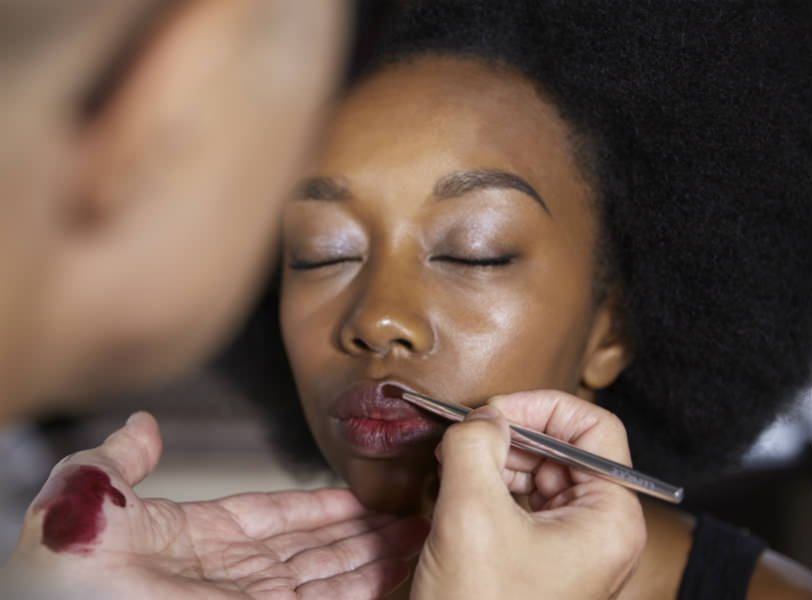 Executing the perfect power lip.
When your skin looks this gorgeous, you don't need a lot of additional makeup. "A simple, dark lip on Fatou is so impactful," says Matin who used a lip brush to blend Pop Matte Lip Colour + Primer in Avant Garde Pop, a deep wine color that looks gorgeous on her dark skin. "Lipstick is the ultimate accessory, one swipe and your face is complete," says Fatou. He then traced the outer ridge of her lips with a concealer to clean up the edges and get a super precise line. Fatou's advice for pulling off a bold lip? "You have to be confident and self-assured and not worry about what anyone else is thinking."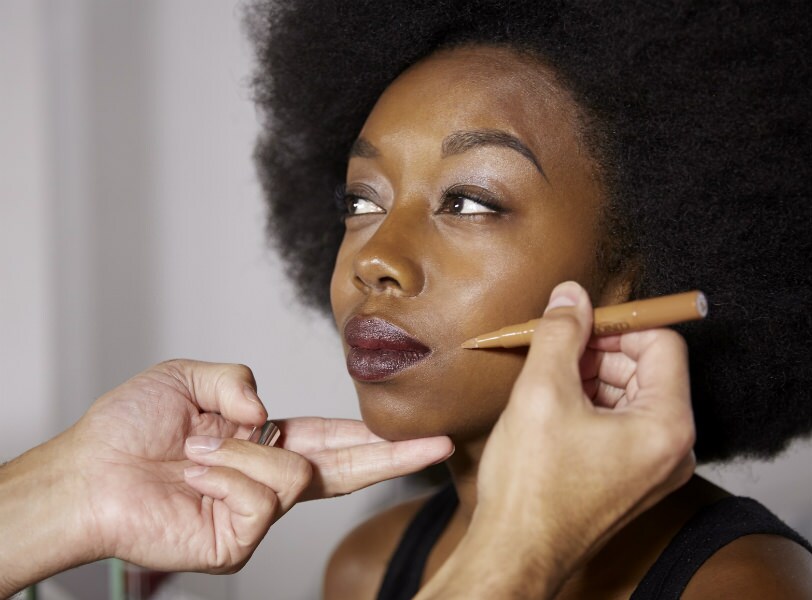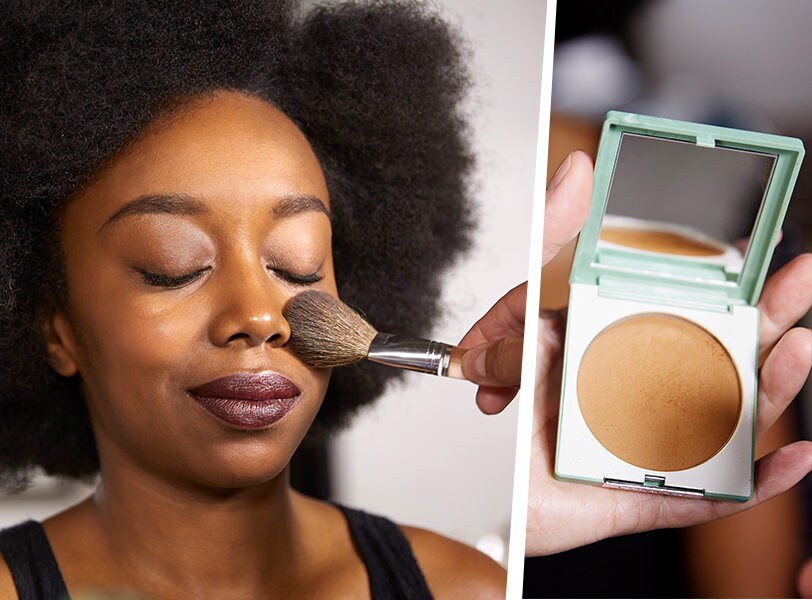 A little bit of powder goes a long way.
Before letting Fatou leave his makeup studio, Matin dusted on Stay-Matte Sheer Pressed Powder in Stay Sienna. "A tiny bit around the T-zone prevents getting shine in the wrong areas and helps your makeup stay put," he says.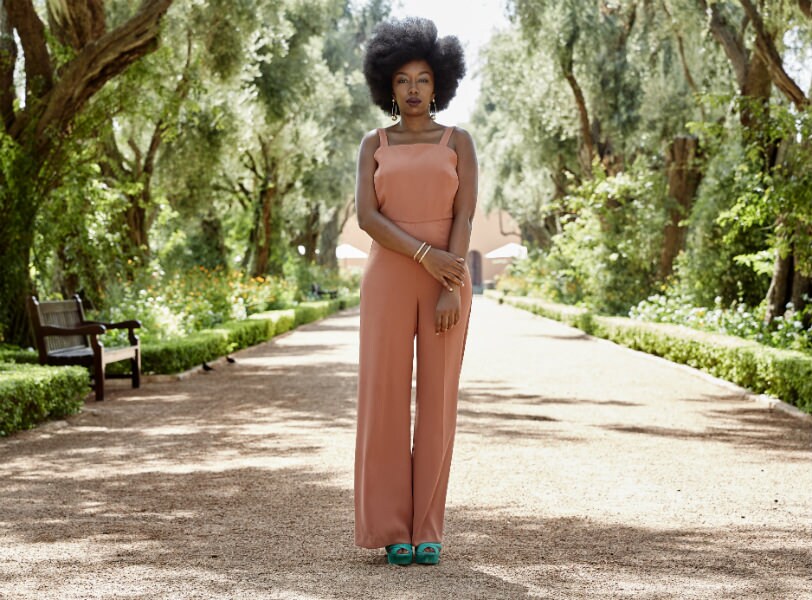 And always remember, your beauty look should make you feel confident.
Fatou's number one beauty rule: always feel good in your skin. "Your style is an extension of your personality. By always matching your look with what you are wearing, you will always be comfortable," she says.
Photos: Rudi Geyser | Words: Rachel Hayes