We know the struggle. After a long day or a late night (or both), the last thing you want to do before collapsing into bed is a complicated skin care routine. But as you may have heard from your derm, your mom, your girlfriends, your…(we could keep going), washing your face every day is critical to achieving and maintaining beautiful, radiant, healthy skin. Even if you have "normal" skin, the right face wash can mean the difference between good skin and great skin. On the other end of the spectrum, plagued with pesky breakouts or random dry spots? The right cleanser can help fix those, too.
The first step to happy skin is identifying your skin type. Many factors play into this, such as climate, age, pollution, and the amount of sleep you're getting. Start with this online diagnostic to determine yours. It's also important to pay attention to how your skin is feeling, day to day, season to season, and as you age. You may need to adjust accordingly (more hydration in the winter, more oil-control in the summer, for example). The right cleanser, used daily, has the ability to help restore your skin's balance and glow, no matter what gets thrown your way. Another benefit? Clean, balanced skin will allow the rest of your skin care to work more effectively and applying makeup will be a breeze.
Now that you've figured out your skin type, here's what to look for in a cleanser: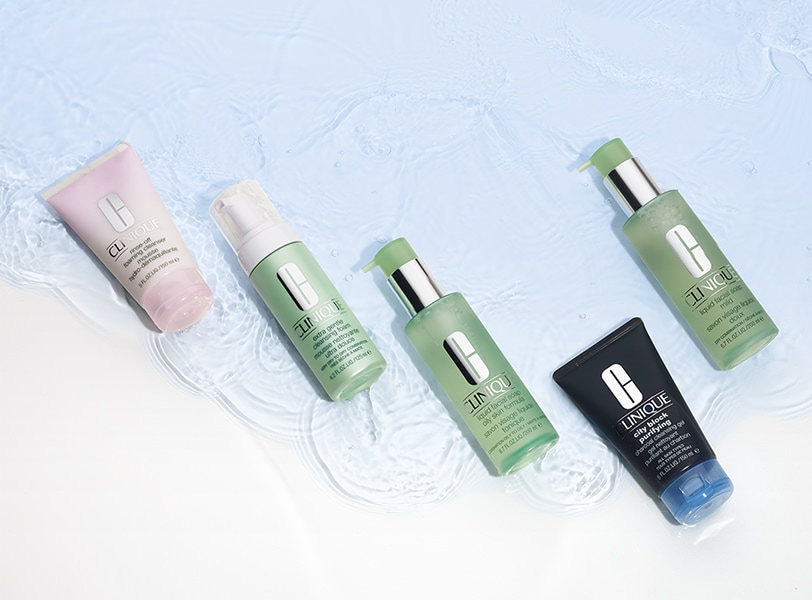 IF YOU HAVE DRY SKIN…
The holy grail for dryness is a cleanser that helps attract and bind moisture to your skin's surface for long lasting hydration. A liquid formula containing ingredients like hyaluronic acid and soothing aloe will do just that, while also working to cleanse and comfort skin. Liquid Facial Soap Mild or Liquid Facial Soap Extra Mild offers this one-two punch.
IF YOU HAVE OILY SKIN…
Excess sebum (that's the oil your skin naturally produces) actually makes thorough cleansing pretty tricky because it binds to makeup and dirt, creating a sludge that sticks in the bottom of your pores. However, cleansing too harshly can disrupt the moisture barrier of your skin, which could cause your skin to create even more oil, exacerbating your problems. The goal is to remove oil while maintaining moisture levels. Liquid Facial Soap Oily Skin Formula does exactly that.
IF YOU HAVE NORMAL OR COMBINATION SKIN…
Lucky you if you don't have much to complain about, but even so, chances are that certain areas of your face still have different needs. For instance, your T-zone may tend to be a tad more oily than the rest of your face, or you may have a slight patch of dryness here and there. A cream formula that lathers into a lush foam, like Rinse-Off Foaming Cleanser, will keep everything in balance and is ideal for dissolving longwearing makeup and sunscreens. Follow up with Liquid Facial Soap Mild after thoroughly removing makeup for the best, most comfortable double cleanse.
IF YOU HAVE SENSITIVE SKIN…
Skin that's prone to irritation can be the most difficult to manage. Look for a hyper-gentle, sulfate-free cleanser that contains soothing ingredients (caffeine and algae extract are great) as well as moisturizing ingredients like glycerin. For all these benefits, Extra Gentle Cleansing Foam is pretty amazing, plus it has salicylic acid to gently remove any oil without irritation.
IF YOU HAVE CONGESTED SKIN…
Feel like your skin needs a deep clean? Daily exposure to harsh pollutants (think: natural gas, exhaust, and smoke) can lead to clogged pores and dull skin. To detox your complexion, look for ingredients like bamboo charcoal, which draws impurities out of your skin like a magnet, combined with hydrating glycerin to prevent over-drying. Both are found in City Block Purifying Charcoal Cleansing Gel.
Once you've done the legwork of determining your custom-fit cleanser, actually washing your face is a breeze. All you need is three minutes and your cleanser, then just add water. You can even do it with your eyes closed (wink, wink). The method is simple: lather cleanser between your hands with warm water, massage gently over your face, rinse, and pat dry with a clean towel—never tug on your skin. (If you wear makeup, you should always use a makeup remover before washing your face with a cleanser—the two are not the same.) Now get splashing—no excuses.
Want a more comprehensive skin care plan? Visit a Clinique counter near you for a complimentary consultation—no appointment needed, of course.