50 years ago, the beauty landscape was entirely different. Department store counters were dominated by heavily fragranced, one-size-fits-all creams. Allergy testing and clinical research were unheard of outside of the dermatologist's office. Skin care ingredients weren't as regulated—sunscreens had PABA (a chemical that often caused allergic reactions), face cleansers were nothing more than skin-stripping bar soaps—it was a harsh world for skin.

At his Upper East Side medical practice, prominent New York City dermatologist Dr. Norman Orentreich was doing things dramatically differently. To call him only a dermatologist, though, doesn't begin to describe his legacy. As a prolific researcher and ever-curious scientist, he did important work on everything from the effects autoimmune diseases have on skin health to acne, hair loss, and aging on all parts of the body.

Dr. Orentreich was a pioneer in developing his own skin care products, custom-compounded on-site. The difference maker in his formulas: what wasn't in them was as important as what was. He only used the most powerful, trusted ingredients that passed his rigorous allergy testing. Most notably missing: fragrance, because his research showed that not only is it one of the most allergenic ingredients in cosmetics, it's not at all beneficial to skin.

From her midtown Vogue office, Carol Phillips, editor, and all-around outspoken maverick, caught wind of what was happening at Dr. Orentreich's office and did what any good beauty journalist would do—secured him for an exclusive interview.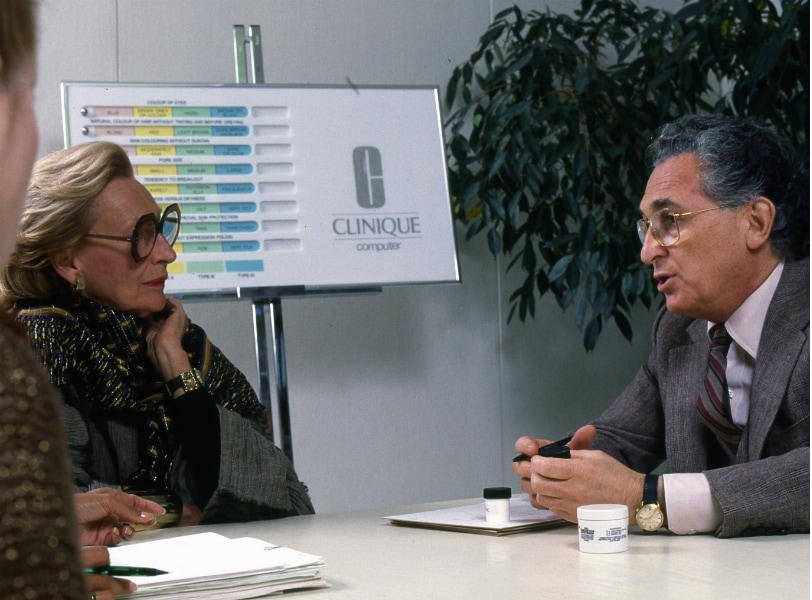 The resulting feature, titled "Can Great Skin Be Created" appeared in the August 15th, 1967 issue of Vogue and sent shockwaves through the industry with its bold proposition that anyone could have great skin, regardless of your genes—how fitting in a decade rife with radical thinking. Dr. Orentreich's skin care secret was delightfully simple (though certainly not basic!), and had been central to his practice for a decade: cleanse, exfoliate, moisturize. Perform that regimen, customized to your skin type, twice each day, and you would see incredible results—so fundamental today, yet utterly trailblazing back then.

The creation of Clinique.
The article struck a chord with Leonard Lauder, Chief Executive Officer and Estée Lauder's son, who enlisted both to develop a revolutionary line of products based on Dr. Orentreich's radical idea and his own dermatological formulas. One year later, in September 1968, Clinique burst onto the scene as the world's first allergy tested, 100% fragrance free, dermatologist developed beauty brand. The original lineup consisted of 117 products, each created under the guidance of Dr. Orentreich's clinical formulations and allergy testing protocol. 7 of his original products are still among our top sellers today.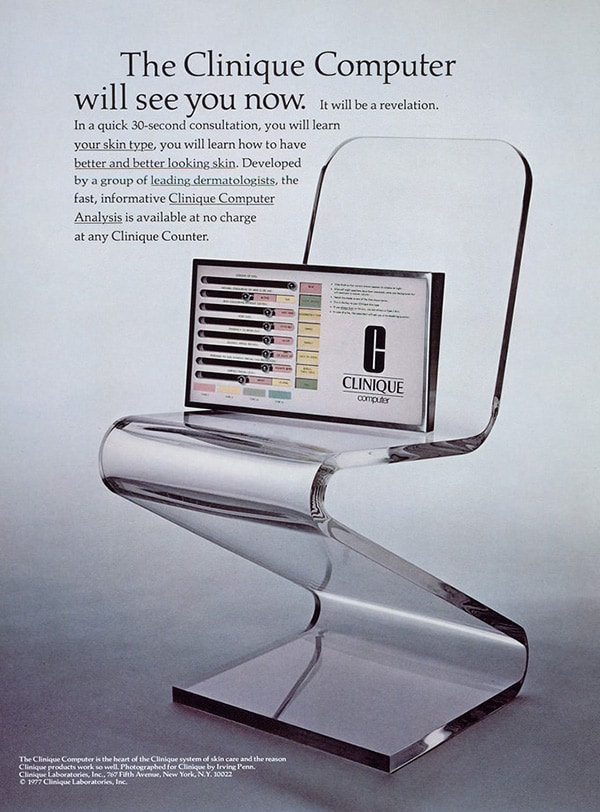 Central to Dr. Orentreich's practice was his one-on-one consultation with patients to diagnose their skin type and prescribe customized skin care regimens. While creating Clinique, Carol Phillips knew they had to bring this same level of personalized service to women outside of his office. To do that, she took inspiration from the shoe store. Just as a foot measuring device is able to determine your shoe size, she wanted a similar tool that could accurately—and easily—measure your skin. So, they developed the Clinique Computer, a non-electronic box of sliding knobs that guided you to your skin type through a series of simple questions—the same ones Dr. Orentreich would ask his patients. How the levers lined up revealed your skin type. This scientific approach, born of his medical understanding of skin, is still used at every Clinique counter today, now in the form of touch screens and online apps.

Pioneering allergy science.
Ever the visionary, Dr. Orentreich helped put in place a rigorous Allergy Science protocol for Clinique Laboratories long before anyone was even thinking that way. Unprecedented for the time, no other beauty brand was doing this level of testing. "It was important to us to make sure that our formulas were free of anything irritating. We tested every single formula, and if there were any reactions at all, it was back to the drawing board to reformulate. We still do that today," says Janet Pardo, Senior Vice President of Global Product Development.

Clinique conducts numerous tests at every stage in the product development process, including the Repeated Insult Patch Test (RIPT), stability tests, sensory tests, clinical tests, ophthalmologist testing and safety in use testing. Conducting such extensive allergy testing on every single Clinique formula for the past 50 years has generated an immense and rich database on ingredients, skin physiology, and formulation knowledge that is completely unique to Clinique and is constantly being updated.

When we create new formulas, our chemists not only look back at this database but also to the future at new, cutting edge research in the field. Carrying on the legacy of Dr. Orentreich's work and working with his children, Drs. Catherine and David Orentreich, Clinique continues to be at the forefront of scientific research in the area of skin biology thanks to academic, medical and research partnerships and our laboratories across the US, Europe and Asia. The result: even more precision, more effective formulas, and less potential for reaction.

Clinique Clean Philosophy
Today, our commitment to uncompromising, rigorous allergy testing is as unwavering as it was in 1968. As ingredient research evolves, so must our products. Whenever ingredient questions surface we re-examine our formulations to ensure we are always delivering what's best for your skin. Because of this ongoing practice, we proactively removed parabens (a chemical preservative), and phthalates from all of our products—which of course, are all still fragrance free.

For 50 years, Dr. Orentreich remained an invaluable, trusted advisor, and went on to help create countless breakthroughs for Clinique. Most notably: City Block SPF 15, one of the first chemical-free sunscreens, in 1991, and Acne Solutions, a multi-pronged, yet gentle system to treat acne, in 1999. He remained active at his own practice right up until his death at age 96 in January 2019. His children, Drs. Catherine and David Orentreich, who have been part of the Clinique family for decades, now carry on his legacy to serve as our guiding dermatologists.

Words: Hilary Presley | Advertising photography courtesy of the Irving Penn Foundation