While there's no magic overnight treatment for acne, it's absolutely possible to treat mild to severe acne and get the clear skin you want. Not only do you need the right treatment formulas, it also takes dedication to a simple, twice daily routine—just like brushing your teeth.

Clinique's approach to acne: Kill it with kindness.
There's no need to blast away acne with harsh formulas that dry out and irritate your skin. A good acne-fighting strategy doesn't just treat the bacteria, but all the side effects of acne too: the greasy skin feeling, redness, and sensitivity. That's why everything in the dermatologist-developed Acne Solutions regimen attacks acne with a multi-pronged approach that safely reduces breakouts, while also preventing new ones from forming.
Stick to this simple 3-step regimen, and in just 3 days, you'll start to see a reduction in active acne, then it just keeps getting better and better.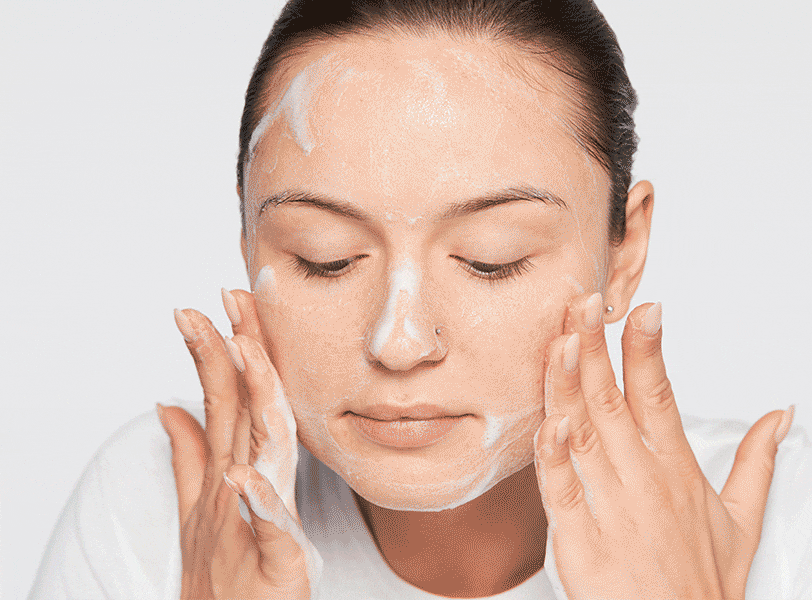 Step 1: Cleanse
Acne Solutions Cleansing Foam is a gentle, yet deep cleansing face wash that won't strip your skin. It has oil-controlling laminaria sacharina extract, soothing caffeine, and 2% salicylic acid to exfoliate away dead skin cells.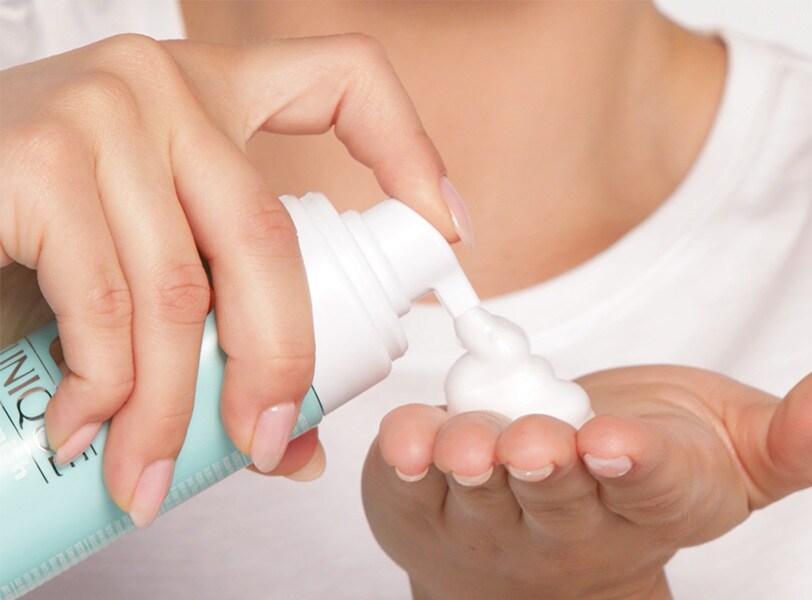 To get the best clean, use a makeup remover first. As a rule of thumb, always use lukewarm water when washing your face. Hot water can irritate skin and strip natural oils, while cold water can feel uncomfortable—and no it doesn't actually tighten your pores.
Pump the Cleansing Foam 2-3 times and massage gently all over your skin, avoiding your eye area. Do this for about 30 seconds, then rinse and gently pat skin dry with a clean face towel. Tip: Keep a stack of white baby washcloths in the bathroom, and use a fresh one each time you wash your face. This is what many dermatologists recommend to patients who've just had an in-office procedure and need to take extra care with their skin.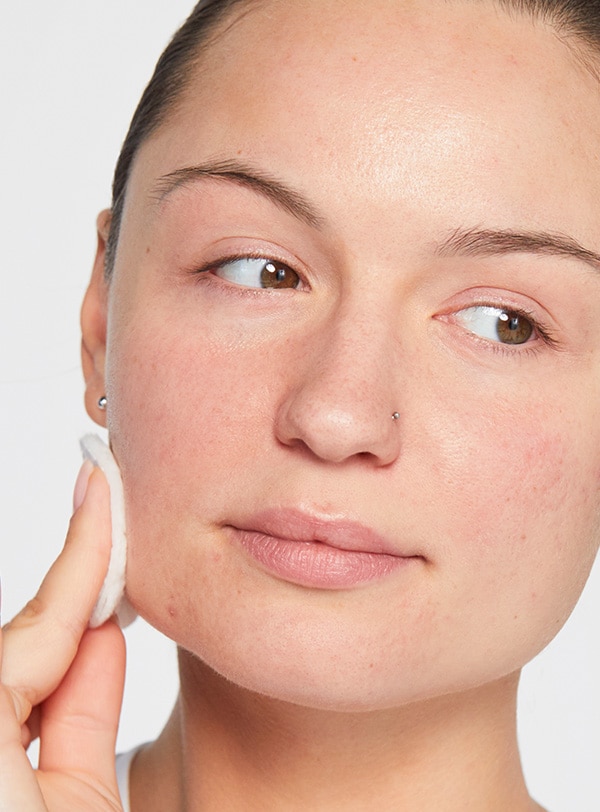 Step 2: Exfoliate
Acne Solutions Clarifying Lotion is a liquid exfoliator that also has mattifying, oil-absorbing powders to help nix shine. Just like the cleanser, it has 2% salicylic acid to slough off dead skin cells and keep pores clear.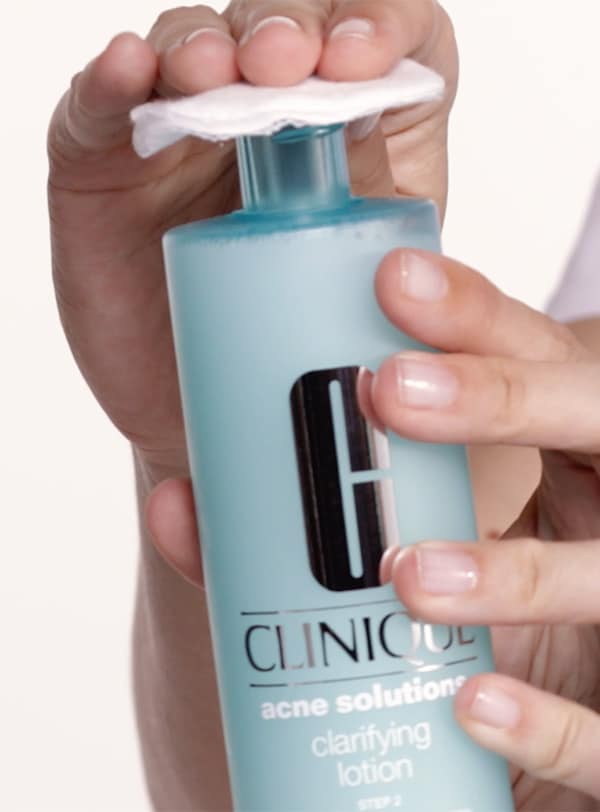 Shake up the Clarifying Lotion well to mix the oil-absorbing, shine-controlling powders thoroughly with the liquid exfoliator. Saturate a cotton ball or cotton round and sweep it over your entire face and throat—don't forget your jawline and avoid your eye area.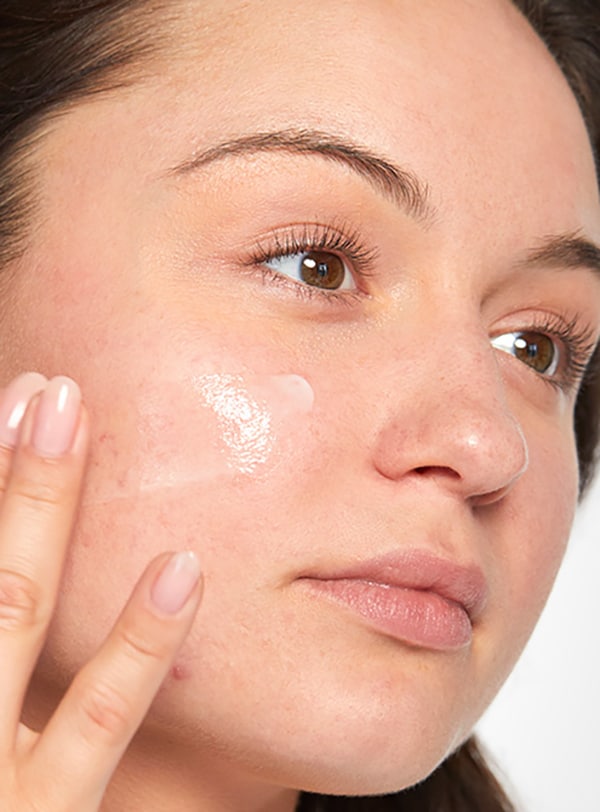 Step 3: Moisturize.
Yes, even if you have acne, you still need a moisturizer. Without the right level of hydration, your skin can actually overcompensate by producing too much oil. Acne Solutions All-Over Clearing Treatment is an oil-free moisturizer, specially formulated to give you just the right amount of hydration, without feeling greasy. In addition to salicylic acid, it also has 2.5% benzoyl peroxide, which is a different acne-fighting ingredient than in the cleanser and exfoliator. We call this step the "sneak attack!" because disrupting acne with a different antibacterial ingredient prevents the acne bacteria from adapting to the regimen, and becoming immune to, one ingredient.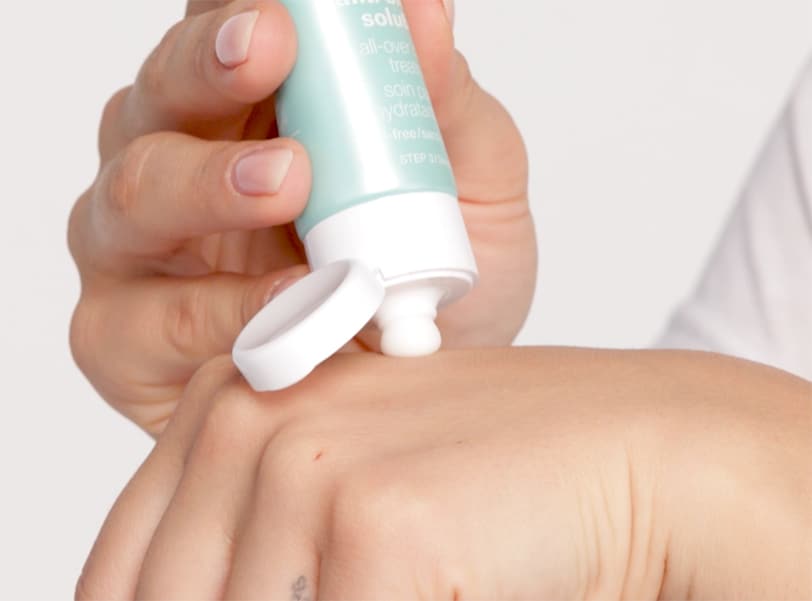 Spread in a thin layer over your entire face, including your blemishes. This is key: Don't rub it in too vigorously. This can cause more irritation and redness. Instead, gently pat, tap, and flutter your fingers on your face until it's all absorbed.

Want to learn more healthy skin how-tos? Stop by any Clinique counter and let our experts treat you to a complimentary Break Up with Breakouts You-Time Service.
Words: Hilary Presley