For professional dancer and fitness expert Danielle Peazer, her skin care and makeup choices need to work as hard as she does. "I'm always on the lookout for products that can fit easily into my routine," she says. "Long-lasting formulas and products that are easy to apply on-the-go are key, and I also make sure the products I'm using are benefitting my skin, especially when I'm working out."
So who better to road-test CliniqueFIT, a collection of athletic-inspired skin care and makeup essentials designed to move with you? "In the past I've struggled with formulas that are too thick or too heavy," Danielle says. "So for me, CliniqueFIT was like the mecca of all skin care and makeup when it came along!"
Danielle put CliniqueFIT to the test at a supercharged dance workout she hosted for a group of fitness influencers and friends at London's Frame studio. Read on for a behind-the-scenes look at her day.
First up, morning staples.
"I always start my day with hot water, lemon and ginger, before jumping in the shower," says Danielle. "Then for breakfast I'll have oats–perfect when the weather's cold, and to keep my energy up, especially when I'm teaching."
Next, it's on to skin care. "My skin care regime is always the same, regardless of what I'm doing that day," says Danielle. "I cleanse my face, tone, apply moisturiser–Moisture Supercharged Concentrate is my favourite–and eye cream. No matter where I am in the world, I have to do these four things!"
Followed by makeup must-haves.
"Although I don't wear a lot of makeup, I do apply some before working out," Danielle says. "When I train, I spend a lot of time looking in a mirror to make sure I'm moving in the right way and following the correct techniques. Personally, I feel that if I look presentable, with an even base and defined eyes, I actually get more out of the workout. Working out is my job–so the same way that other people apply makeup to go to work, I do too."
Danielle's go-to essentials? "I love CliniqueFIT Workout Makeup. It gives me such a flawless base and is so long-lasting, without clogging my pores–perfect for working out!" The lightweight formula is also sweat- and humidity-proof, and protects with SPF40. "I team the foundation with CliniqueFIT Workout 24-Hour Mascara," says Danielle, "It pulls everything together, and I know it's not going to run down my face halfway through a class!"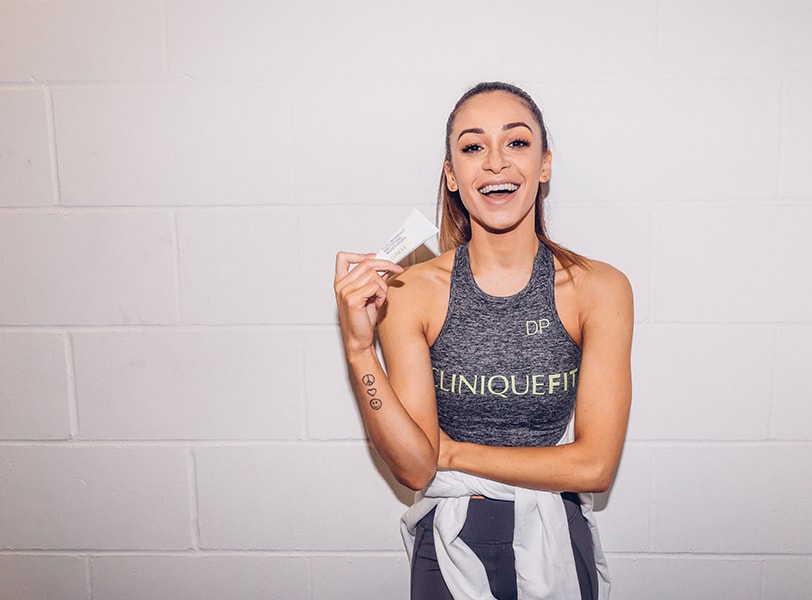 Get motivated–fast.
It's true, even professionals have off-days. "People always say to me, 'It's so easy for you, you're always motivated,' but no–I definitely have days when all I want to do is sit on the sofa!" says Danielle. "But I also know the feeling I get when I've smashed a workout. If I want to feel good mentally, as well as physically, I know I have to get up and work out. The endorphins really lift my mood, that feeling is my motivation."
Another sure-fire way to get motivated, fast? Choose a workout you actually enjoy. Danielle's #DPxCliniqueFIT class was based around The Danielle Peazer Method, a new way of working out that derives from Danielle's training as a dancer. "There are loads of ways to keep fit, but this is the way that's always worked for me and kept my physique in check," she says. "You'll strengthen and tone, and there's a cardio element as well. Plus it's all set to a really fun playlist. I love any music with high energy—Calvin Harris is always upbeat, and I usually throw in a bit of Beyoncé to make the girls feel empowered!"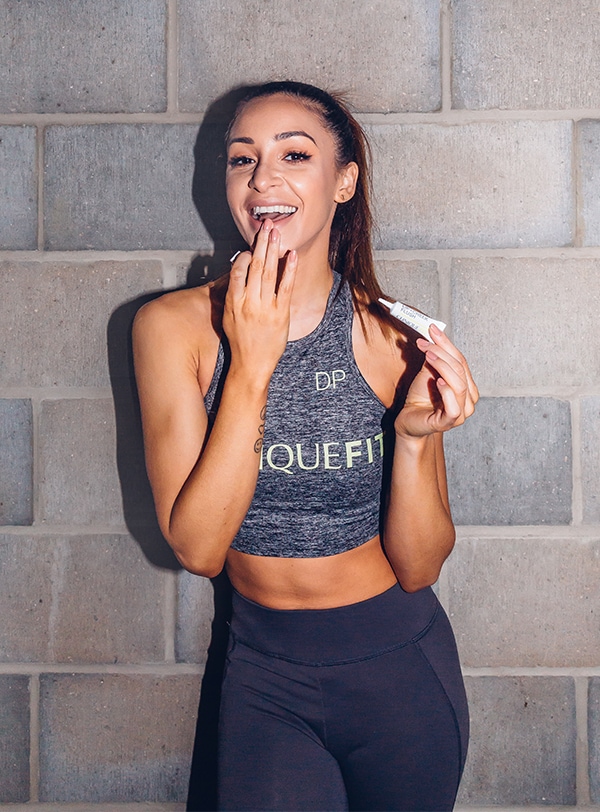 Don't forget your post-workout essentials.
"I always carry CliniqueFIT Workout Face + Body Hydrating Spray in my gym bag to use after a class," says Danielle. "It makes my skin feel fresh instantly. I spray a good five or six pumps all over my face, then once it's set I go in with CliniqueFIT Post-Workout Neutralizing Face Powder." This yellow-tinted powder instantly neutralises and conceals redness, blending easily thanks to the clever sponge applicator.
"Although my skin doesn't tend to get very red, it's great for mattifying," says Danielle. "And the little mirror on the lid is so handy to use on-the-go. I also dab some of the CliniqueFIT Lip + Cheek flush onto my lips and cheekbones to add a quick, healthy glow. Today, I've got to go straight to another class, so I don't have masses or time to hang around–the best thing about CliniqueFIT is that you can literally apply it on the bus!"
Watch Danielle and her classmates put CliniqueFIT to the test in the video below. Or, to watch the live stream and follow the class from start to finish, head to the Clinique UK YouTube channel.