Way back when, buying sunscreen was a no-brainer. Similar formulas from a few select brands made it a grab and go experience. Now, with the skin care aisles loaded with hundreds of different formulas and sun protection factors (SPF), it's enough to make a parent's head spin. "I've worked in the beauty industry my entire career, so I'm pretty savvy when it comes to shopping for skin care, but deciding which sunscreen to use on my child has been very confusing," says Ashley Allatt, a communications consultant. "I want a sunscreen that is effective, but also safe on my son's sensitive skin, and easy to apply."
Protecting kids from getting a bad sunburn isn't just about saving them from the pain. It's also about preventing long-term skin damage, from superficial premature aging, like dark spots and wrinkles, to life-threatening skin cancer. A sobering stat: According to the American Academy of Pediatrics, approximately 25% of sun exposure that a person accrues during a lifetime happens before they're 18 years old. So how you protect your children when they're young has a huge impact on their future.
We tapped into the expertise of Dr. Michelle Henry, a New York City-based board certified dermatologist, to get the final word on the best sunscreen for kids and the best ways to apply.
1. Use a mineral sunscreen.
"Mineral sunscreens are the best choice for children because they don't absorb into the skin, but rather create a protective barrier on the skin's surface that reflects UV light," explains Dr. Henry. Also known as "physical blockers," mineral sunscreens use naturally occurring minerals such as zinc oxide and titanium dioxide to protect. "Since they don't penetrate the skin, they come with a lesser risk for potential irritation," adds Dr. Henry. The one drawback? Some mineral sunscreens tend to be thick and hard to blend, leaving a sticky, white residue that attracts sand (and dirt and grass). Clinique's solution: SPF 30 Mineral Sunscreen Lotion for Body and SPF 50 Mineral Sunscreen Fluid for Face. Both feature Invisible Shield Technology, which creates a breathable, light as air, next-to-invisible finish—no sticky, chalky residue. The formulas are also fragrance and oil-free, dermatologist and pediatrician tested, and may be used on children six months old and up.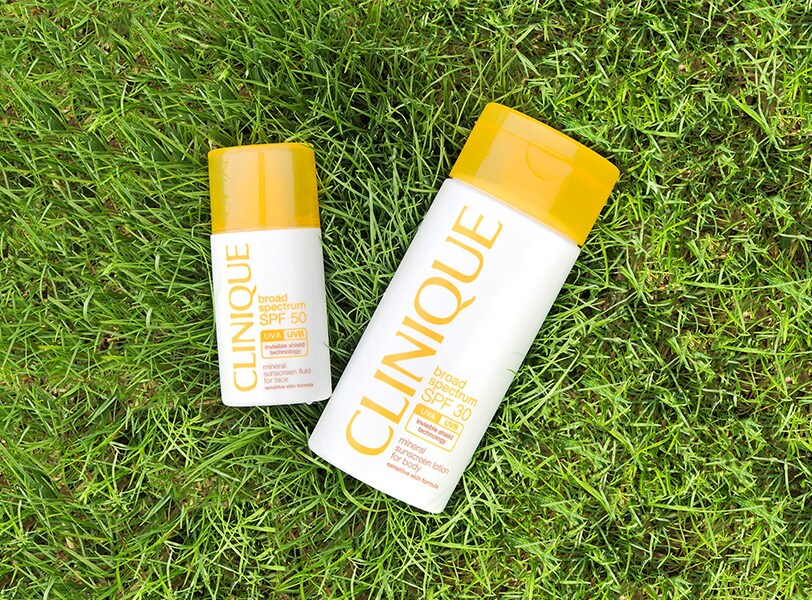 2. Choose a cream or lotion.
Spray sunscreens may be easier to apply, but half of the time (especially if you're chasing a busy toddler or it's really windy) you miss the intended target. Most of the sunscreen ends up in the air as opposed to the skin. Creams and lotions may take more time to apply, but ensure full, even coverage.
3. Always pre-apply.
"To properly protect your child from a sunburn, how you apply it is just as important as the formula you choose to use," says Dr. Henry. Always apply sunscreen before heading to the beach (or backyard). Even better? Make it a ritual for your children to apply sunscreen before they even get their bathing suit on. This ensures you won't leave any spot uncovered.
4. Slather liberally.
Make sure to cover all exposed areas, especially easily overlooked spots like the ears, tops of feet, hands, scalp, and just below the underarms.
5. Don't forget to reapply.
"The biggest mistake parents make is not reapplying sunscreens," says Dr. Henry. The best advice: Set a timer on your phone to remind yourself to reapply at least every 2 hours.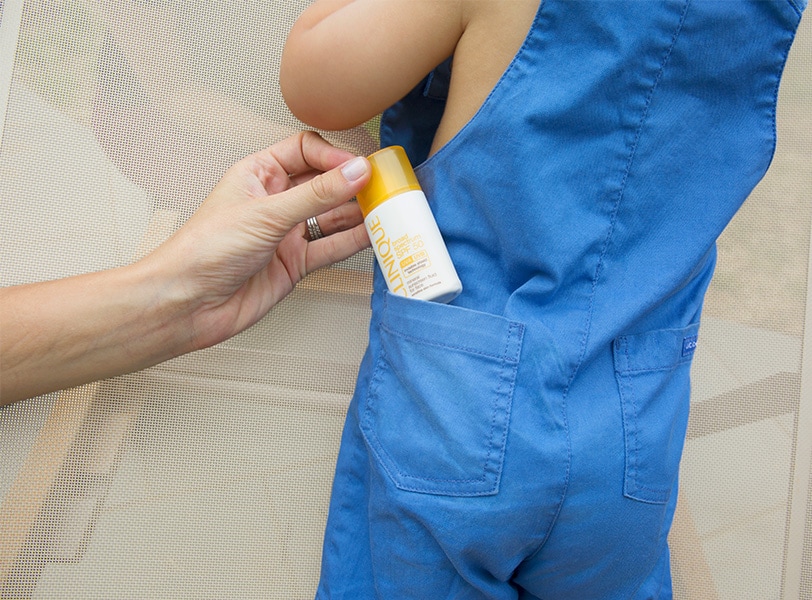 6. Practice what you preach.
If you don't wear a bike helmet, why should your kids? It's the same with sunscreen. Always apply in front of your children so it drives home the importance of SPF, no matter your age.
7. Avoid the midday high sun.
Try to limit your time in the direct sun during its peak intensity moments, which is between 10 A.M. and 4 P.M. Also, have your kids wear a hat whenever they are outside.
Photos: Saria Atiye | Words: Julie Redfern