If you're in your 30s, you're probably starting to see those telltale signs of aging show up like an Insta-stalker from high school—they make you wish you'd handled things a little bit differently (blocked). Maybe worn more sunscreen (not used maiden name).
Incidentally, your face has 57 muscles. That's right, 57. And so the good news is that those muscles can be exercised and firmed…just like you've been working out the rest of your body all these years. Facialist Rachel Lang and massage therapist Heidi Frederick, co-founders of New York City's FaceLove Fitness (it's like barre class for your face), devised the following facial exercise circuit exclusively for us, specifically for 30-somethings. (Not in your 30s? You're not off the hook. Check out their workouts that address specific facial concerns that arise in your 20s and 40s.)
"The key is to target your problem areas and make these exercises a habit," says Rachel. Combined with the right products and circulation-stimulating massage, they can have a profound affect on your skin's resistance to aging. "The exercises help to firm your face, increase your glow, and actually enable your skin care products to do their best work, and stimulate beauty from the inside out," says Heidi. "Massage can take it all to the next level—and don't forget its proven stress-reducing benefits."
To test out the regimen, we asked Ashley Allatt, 30, Clinique's Manager of Global Communications, to give it a go. "I've started to do this face workout every morning," says Ashley. "Now it has become the perfect boost to kick off my day."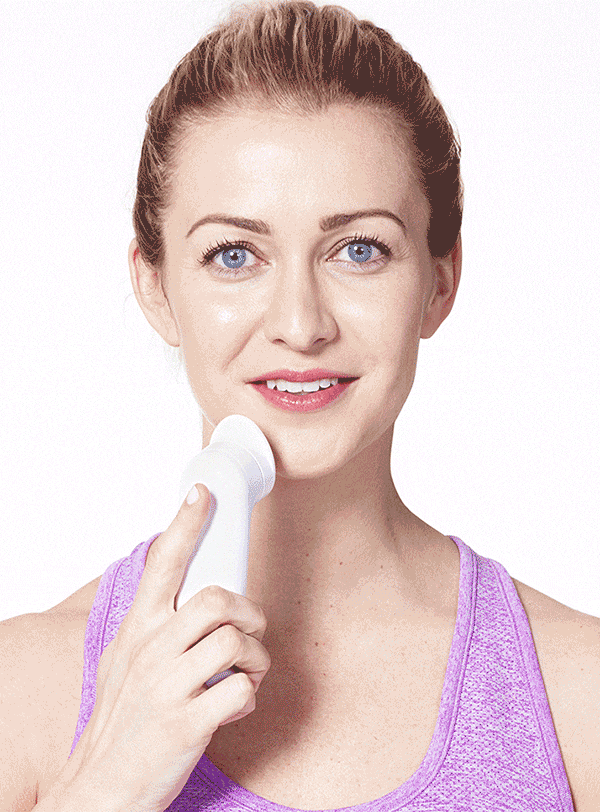 The Eye Opener
This exercise helps to brighten your under-eye area and plump fine lines so they're less visible. You'll improve circulation in the entire eye area, which can give you a healthy glow. Repeat 5 times.
Step 1: Place both hands horizontally on top of cheekbones. (Index fingers should be under lashes while little fingers are just under your cheekbones.) Press hands firmly against your skin to hold muscles in place.
Step 2: Squint eyes while squeezing cheeks up as if you're making a squishy, sour face. Hold for 5 counts.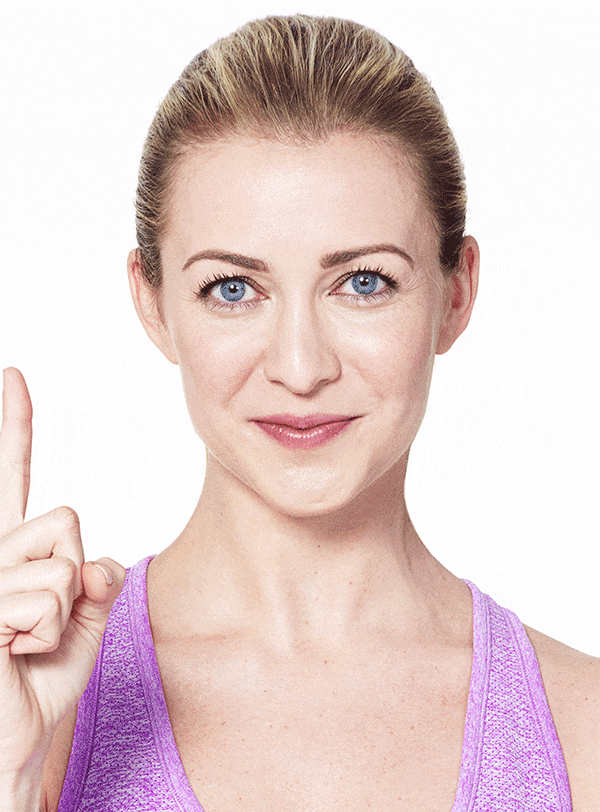 The Pout Perfector
Try this exercise to combat smile lines around your mouth. It'll also help plump up your pout by strengthening the support muscles and improving circulation. Repeat 5 times.
Step 1: Place index finger vertically on lips.
Step 2: Pucker lips with maximum effort, while pressing your index finger to create resistance. Hold for 5 counts.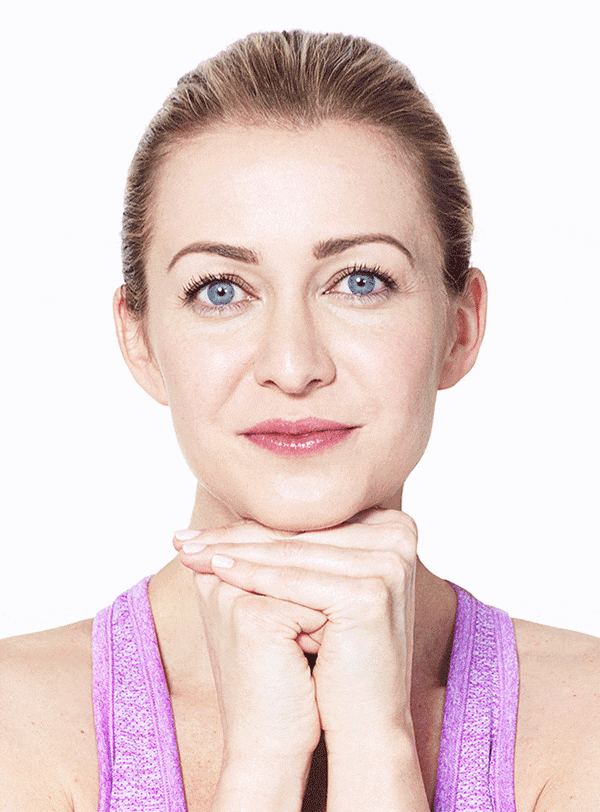 The Chin Press
This sequence can help to lift and define your jawline. Plus, it will help prevent loss of tone in your chin, cheek, and jaw areas. And since your muscles are all connected, that's essentially your full face. Do 3 sets.
Step 1: Create a resistance platform under your chin by putting hands together in a flat fist. Press your tongue against the roof of your mouth (lips closed) and tuck your chin down while your fist pushes upward.
Step 2: Look up and open your mouth wide. Repeat sequence 5 times.